Monday through Wednesday, 10:00 AM until 7:00 PM
Thursday and Friday, 10:00 AM until 8:00 PM
Saturday 9:00 AM until 8:00 PM
Sunday 10 :00 AM until 7:00 PM
Admittance to the shooting range closes one hour before the store closes.
The transfer process requiring background checks, firearm sales or transfers, must be started 30 minutes before the store closes.  If your response from the background check is not completed before the store closes, the completion of the paperwork will be completed the following day.
Once notified that your firearm is ready for pickup, the transfer needs to be completed in a reasonable period of time or additional fees may be applied.
Welcome to Tampa's Premier indoor shooting range. Shooting Sports has combined the best features found in other indoor ranges in the country to develop the Tampa facility.
A few rules for the safety-conscious:
Shooters may use their own firearms or rent ours. All firearms, when not at a shooting station in the range, must be in a case and unloaded.
Our safety policy requires that a minimum of two shooters be present to rent one of our firearms.
We require eye and ear protection. You may use your own or rent those from us. Eyeglasses are ususally sufficient eye protection.
We do not allow steel core, steel shot, slugs or black powder. You may bring your own ammo but it must be Full Metal Jacket.
Children must be at least 10 years old to shoot on the range. Children under the age of 18 must be accompanied by a parent or guardian.
Daily range fees:
$18.00/person, Per visit. No time limit.
$14.00 for children under 13 years old.
$18.00 for shotgun. Per visit. No time limit.
Other fees:
Firearm rental: Cost of renting a firearm will depend upon the type and caliber of firearm chosen. Rented firearms must use our ammo.
Hearing/eye protection: $1.75 earmuffs, $1.50 safety glasses.
Targets: A variety available. For sale in packets at prices from $1.25 to $3.25.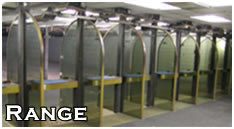 Remember, shooters with memberships pay no range fees. Ever.
To save time, read our Range Rules before you come in.
(You may also print the PDF, sign it, and bring it with you.)
The professionals at Shooting Sports recognize the growing demand for responsible firearms training and meet this demand with formal classroom training for the novice, intermediate, and advanced student. All Shooting Sports Instructors are NRA and/or USCCA Certified.
Talk to us about your needs. We have been adding specialty courses for advanced shooting programs and self-defense classes for those shooters seeking challenging competition.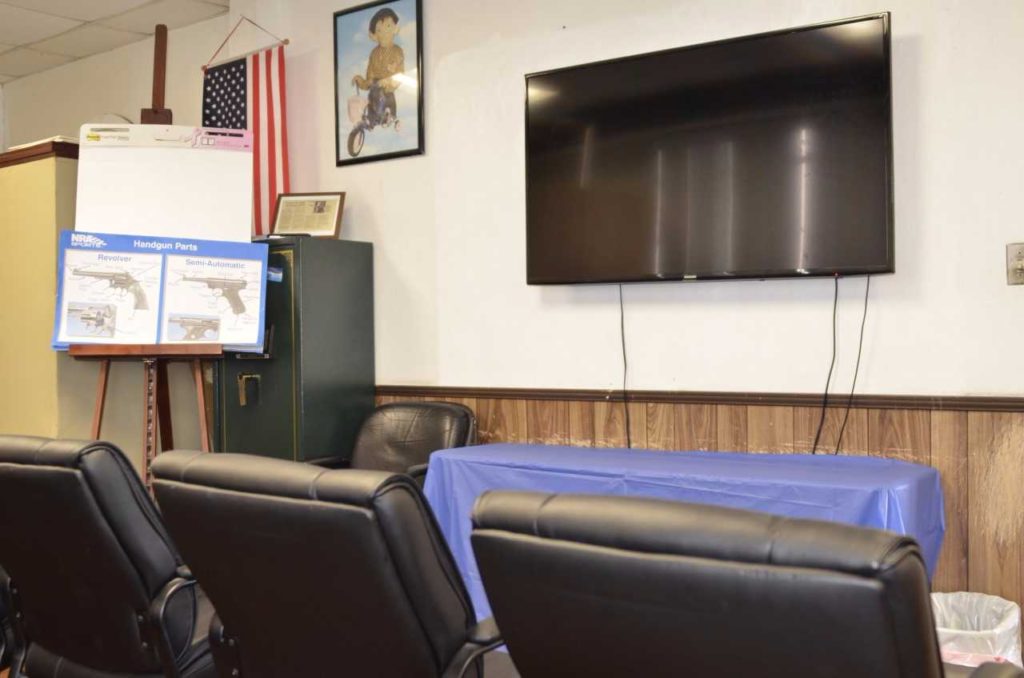 Class schedule: Click Here to see our calendar of classes and events. Classes fill up. Register early. Questions? Call us at (813) 933-3000
Concealed Weapons or Firearm License Course ($60.00 per person / $115 for two people)
USCCA Beginners class
Shotgun
Home Defense
Beginner to Advanced Shooting Courses
Concealed Weapon or Firearm License Course
This course is designed for the student that intends to obtain a State of Florida Concealed Weapon or Firearms License. This is an advanced course and is not recommended for inexperienced shooters. This course exceeds the requirements set forth by the State of Florida as proof of proficiency with a firearm.
You do not have to own a handgun to take this class; the price includes the use of a rental firearm, safety equipment, and targets. The student will be responsible for ammunition used during the class. If you do own a handgun, you are encouraged to bring it to class and receive this training with your own firearm.
State Statutes to Know While Carrying a Firearm
Use of Deadly Force
Mindset and Levels of Awareness
Holsters and Methods of Carrying
Range Session
If needed, Certificate reprints are available for $15.00
On the range, you will be required to shoot 25-50 rounds at distances of 3, 5, and 7 yards.. Proficiency Certificates are awarded after successful completion of the class.
The concealed weapon license class fee is $60.00 for one person, $115.00 for two, and $55/person for three or more attending at the same time.
Payment is due at the time of registration. Any student who wished a refund must cancel 48 hours before the start time of class. 
Any student who wishes to reschedule a class, must reschedule with 24 hours of notice before the start of class.
NO SHOWS are not eligible for refund or reschedule.
United States Concealed Carry Association (USCCA) Basic Handgun Course
The USCCA Beginner's course is for the individuals or families new to firearms. It is a hands-on introduction to safe gun handling. The curriculum includes shooting fundamentals, the safe operation of firearms, ammunition type and range qualification.
This course meets the training requirements of the state of Florida for the "Concealed Weapon or Firearm License.
Program Fee: $85 and includes:
3 hour session (2 hour Classroom, 1 hour range)
Firearm rental, Eye and Ear Protection, and Targets
Certificate of Completion
Payment is due at the time of registration. If necessary to reschedule, we need to have notice 72 hours or more before the class scheduled time. A class can be rescheduled once after the initial class scheduling with no penalties. Any additional rescheduling will be subject to a $10.00 fee. Any refunds are subject to a 15% restocking fee. Scheduled students that do not show or call are not eligible for a refund only rescheduling.
Limited to 6 students per class.
Students must purchase store ammunition for rental guns.
Students may provide their own firearm, if appropriate for the class.
Inquire at counter for class schedule dates.
Cancelling and rescheduling:
Thank you for scheduling a class with Shooting Sports, Inc. We pride ourselves on the quality, safety, and professionalism offered in our courses. In order for this service to remain high quality and well available to you, as well as profitable to our business, we have a policy in place to hold everything to a standard.
- Any student who wishes to obtain a refund must cancel with 48 hours of notice before the start time of the class.
 - Any student who wishes to reschedule a class must reschedule with 24 hours of notice before the start time of the class.
- Any emergency rescheduling or cancellations with less than the required notice is subject to approval by Shooting Sports, Inc., as well as upcoming class availability.
- If proper notice is not given you may ask for an exemption to the rule, but it is assumed that you are forfeiting all refunds and rescheduling.
We hold ourselves to a high standard and we would hope that our students understand that any time a class is rescheduled it can severely damage the profitability of the service as well as restrict other potential students from taking a course with us. We want to be fair and offer all of our customers timely scheduling for our courses.
Before and during the class:
- No live ammunition is allowed in the classroom. You may leave any ammo with the counter staff or in your vehicle. You will have time before the shooting portion of the class to retrieve or purchase ammo.
- If you have a firearm, you may bring it to class for hands on learning. It must be unloaded and in a case. If you do not have your own firearm or eye and ear protection, it will be provided to you in the class for free. You will have to purchase ammunition from us if using one of our rental firearms.
- Please do not load your magazines in preparation for the class. You will be allowed time to load them at the firing line.
- Please write legibly on the class paperwork so that we can print correctly spelled certificates.
- Be honest about your level of experience. No one but the instructor will see what you write and it helps us to properly train you.
- Be kind and courteous to others. Harassment of customers, classmates, staff, or instructors will not be tolerated and will result in instant ejection from the course without refund.
Thank you for taking a course with us. We greatly appreciate your business and cooperation. If you have any questions, staff will be happy to help you at any time.
Visit our newly-redesigned store for more new guns, more consignment, more accessories.
Reloaders: We're selling cleaned brass now! Talk to us about your needs.
NOTE: All caliber ammo is available!
In addition to the range facilities, Shooting Sports has a complete line of firearms and accessories. These items include a full selection of handguns, rifles, shotguns, ammunition, and shooting accessories.
A complete line of rental firearms are available, giving you a chance to try out a number of firearms so you can make an informed decision before making the purchase of your firearms.
The retail area also features a viewing area in a comfortable atmosphere for socializing and relaxation. Relax and watch the shooters on the range.
Shipping and Receiving of firearms: We accept transfer shipments of firearms from other licensed FFL dealers for a nominal Transfer Fee.  Please do not show up immediately after your tracking information says "Delivered".  We will call when ready to pickup.  Transfers are only held for 30 days before storage fees are applied, NO EXCEPTIONS
Consignment Sales: You can always get more for your firearms if you sell them on consignment. We offer this service at 15% of the selling price. We also purchase guns outright.